Koetsu Hon'ami is an artist who lived in the Edo period.
Koetsu was born as the eldest son of a family whose family business was sword appraisal.
Koetsu was active as a calligrapher, potter, and tea master.
He is also known for creating an art village in Takagamine(鷹峯)
Speaking of Koetsu Hon'ami, Saga-book(嵯峨本) is known..
Saga-book is a book published mainly by Koetsu.
At the end of the 16th century, letterpress printing technology was introduced to Japan through the Christians.
In Japan, stimulated by this transmission, publication gradually flourished.
The earliest of these is the Saga-book.
The contents of the Saga-book include Japanese classical literature such as "Ise Monogatari(伊勢物語)" and "Hojoki(方丈記)" as well as Noh songs(謡曲).
In his 40s, Koetsu met a painter named Sotatsu Tawaraya(俵屋宗達).
Koetsu began working on a collaboration with Sotatsu.
That is "Tsuru-shita-e-sanjurokkasen-wakakan(鶴下絵三十六歌仙和歌巻)".
The meaning of the title of the painting is that a waka poem is written in calligraphy on a picture of a crane.
On top of Sotatsu's painting, Koetsu wrote a waka poem in calligraphy.
In that work, the sessions of the two geniuses were in perfect harmony.
Koetsu also left a legacy in pottery making.
He made tea bowls by hand without using a potter's wheel.
Koetsu's tea bowl "Fujisan(不二山)" is designated as a national treasure.
The most distinctive feature of "Fujisan" is the unique glaze that is reminiscent of Mt. Fuji covered in snow.
Author : YAMAMOTO Wakako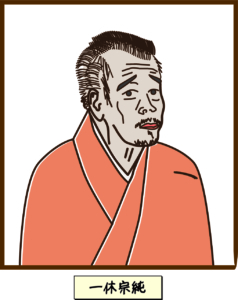 I sell handmade products.
Overseas dispatch is also possible.